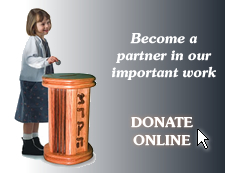 About Chabad
Chabad Lubavitch of Alexandria-Arlington serves the religious and the non-observant, the affiliated and non-affiliated, young and old and all in between. 
Chabad reaches out to all who are in need and assists them with their financial and emotional needs as well as serving the community at large by offering programs and classes for all ages.  From toddlers to seniors, all have a place and feel welcome at Chabad. 
Chabad is committed to strengthening Jewish identity, unity and commitment.  We cannot do this alone.  We count on support from people know for their benevolence, sincerity and sensitivity to the needs of all mankind.  


Thank you for being our partner!
Donation Opportunities
Any contribution is greatly appreciated.
You may also sponsor a Shabbat Kiddush,
dedicate a Siddur or Chumash, or sponsor an event.
CHAI CLUB

Machazor Dedication; $54.00

Siddur Deducation: $54.00  

Chumash Dedication; $72.00

Shabbat Kiddush; $225.00

Event Sponsor; $250.00, $360.00

Memorial Board Plaque; $360

Building Fund

Planned Giving
We also accept donations
of used cars,



stocks and appreciated assets.
Make a contribution in your name or in the name of a loved one today!
Chabad Lubavitch of Alexandria-Arlington is a 501(c)3 nonprofit organization. All grants and charitable contributions are tax-deductible.
IMPORTANT: This online donating system is intended to be used only to submit funds for charity, not for any goods or services offered by  Chabad Lubavitch of Alexandria-Arlington (i.e. Holiday Programs, Adult Education, etc.)
DONATE TO CHABAD TODAY!